Dragon Pharma Methandienone
Methandienone - a steroid which has on the body an anabolic and androgenic effect. It is available under trade names such as Methandrostenolone, Danabol, Dianabol, Anabol, D-Bol. This drug is effective in increasing the "raw" mass but you will not achieve a muscle relief. This steroid leads to water retention, but it goes away after completion of the cycle.
Methandienone Effects
This steroid strengthens anabolic processes, as well as suppresses catabolic processes. The drug also creates a positive nitrogen balance. Active substance penetrates nucleus of cell by activating processes which lead to increased synthesis of tissue proteins, DNA, RNA. All this gives the beneficial effects of the steroid:
increases efficiency;
it gives quick muscle growth and increased power performance;
it leads to burning fat;
strengthens joints
increases appetite.
This steroid can cause some side effects, because of the strong flavoring, increases the risk of gynecomastia. Also this steroid is toxic to the liver and can lead to jaundice in excess dosage. Besides, it is possible acne, alopecia, increased pressure. But these side effects will be minimized or even avoided if you do not exceed the dosage and always remember about the PCT.
How to Use Methandienone: Dosage, Cycle, PCT
Methandienone is used in solo cycles, as well as in combined ones. Do not use the drug if you have pathology of the liver and cardiovascular system. If selected solo cycle, the dosage should be 20-50 mg per day, for beginners - 40 mg, for women - less than 30 mg. This amount is divided into 2 doses and taken before meals. You should start with a small dosage and gradually increase it.
It should not be used more than 6-8 weeks. Chronic administration increases the risk of side effects, and eventually the drug becomes less effective.
One can buy Methandienone with a number of other steroids, because a correctly formatted cycle will help to achieve better results.
Methandienone and Stanozolol. This combination is suitable for beginners. Methandienone will contribute to the rapid muscle growth, and Stanozolol for more elasticity and firmness of the muscles, it also expel excess fluid. This cycle lasts 5 weeks, and during the first week of which you should take 2 tablets of each drug. The remaining four weeks, dose should be increased to 3 tablets. You can use another scheme, for example, just at the end of the cycle, add injectable Stanozolol.
Methandienone and Sustanon. It should be taken 40 mg daily of Methandienone and 250 mg of Sustanon steroid, which is necessary to inject every 5 days.
Methandienone and Nandrolone Decanoate. Methandienone taken at 30-40 mg daily, and Deca at 250 mg per week.
Be sure to remember about PCT - 2-3 days after completion of the cycle, you can start taking Nolvadex (Tamoxifen). It should be taken 20 mg per day for up to three weeks, wherein the dose is gradually reduced. It is recommended use of Cabaser, which will help reduce the negative effects on the liver.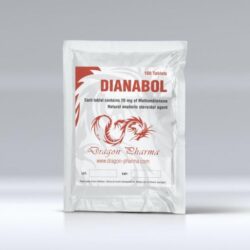 Dianabol, the active ingredient is Methandienone. Dianabol is an anabolic steroid. When it gets inside the cell's nucleus, it increases the synthesis of DNA, RNA […]
18610 total views, 0 today
Verify Supplier
In order to avoid any scam sites, it is highly recommended to verify your supplier. You can validate your supplier by checking his website. Please input below the full web address. Verify and be safe.